Technology Appraisal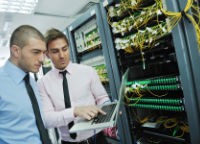 Change programmes normally require enabling technology to support the implementation of new or improved business processes, and more intuitive ways of viewing data through the use of business intelligence dashboards.
ChangeGlobal has experts that can engage with your team to review the technology estate and drive out the roadmap options that will allow you to deliver against the strategic business requirements.
Designing the right IT architecture is obviously key but it's the implementation that will really make or break the success of a programme. Moving from a current application and infrastructure setup to an optimised end state requires pragamatic thinking and willingness to accept that it may not be possible to carry this out in one step. Often the more sesnsible route is to take a muti-step approach by removing dependencies between application suites, standardising on integration data models, improving data warehousing designs, and utilising intermediate operational data stores so that there is less risk on the programme milestones and reduced impact on the business.
In addition, we are highly experienced in running data conversion and migration projects and we know how complex this can be; de-risking by prototyping early on and carrying out trial conversion runs is often the best approach and will allow you to deliver against the agreed timescales.
Engage with us by clicking here and letting us know how we can help you.